Watch a short demo of the Lightning Chat Web Part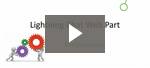 SharePoint users can see which of their colleagues are online and within the Team Site environment. Message their colleagues using the simple to use interface.
Chat Rooms
If multiple discussions are taking place within the Chat web part, Chat rooms can be created allowing your users to have a more focused discussion chat room.
Private Chat Rooms
Private Chat Rooms allow a private instant messaging conversation to occur between two or more users within the Lightning Chat Web Part.
Configure
The Lightning Chat web part is easily configured using the web part properties. The web part properties allow for the configuration of the scope of the instant messaging tool.
Archive
Messages can be archived allowing users to only seeing messages within a particular time period.
SQL database
A Microsoft SQL database is used to store the instant messages which provides high performance along with portability and scalability.