BCS Meta Man Product Demonstration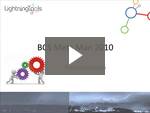 ---
Create Connections in Minutes with BCS Meta Man
SharePoint Designer 2010 provides a no-code solution to building the External Content Type (External Data Connection) for Microsoft SQL databases. If you wish to connect to Oracle, Informix, Dbase or any other external data source, you must write code in Visual Studio. BCS Meta Man writes that code for you! All you have to do is drag the Tables, Views and Stored procedures to the design surface, set some properties, and watch the code get written by Meta Man.
BCS Meta Man supports connection to Microsoft SQL, Oracle, ODBC data sources and Web
Services. Using ODBC you can configure a connection to most external data sources.
Even if you are connecting to Microsoft SQL, you may want to create associations (joins between tables) that SharePoint Designer cannot handle. You will also benefit from having your External Content Type compiled as a .NET assembly which makes it easier to deploy between non-production and production environments.
Configuring the methods such as Read List, Read Item, Insert, Update and Delete is simple using BCS Meta Man. There is no need to write the code, just simple check the box to say that you want those methods.
Filters, and custom Actions are created by simply setting some External Content Type properties.
Upgrading from SharePoint 2007's Business Data Catalog? Using BCS Meta Man, you can upgrade your old
Application Definition File from Business Data Catalog and have BCS Meta Man regenerate it as a .NET Assembly.