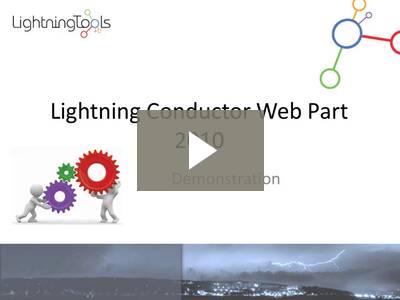 The Lightning Conductor Web Part is a very easy to configure SharePoint List and Library rollup Web Part that can rollup SharePoint Content from across multiple site collections and web applications.
Unlike the Content Query Web Part (CQWP), the Lightning Conductor Web Part can aggregate SharePoint content from anywhere within your SharePoint farm. Instead of writing XSL to display multiple columns of information from SharePoint Lists, you can also configure a view with the Lightning Conductor Web Part without writing any code at all.
Rolling up SharePoint Content is easy with the Lightning Conductor Web Part. Using the Configuration Wizard, you can build your query within minutes to rollup SharePoint Content. You can choose where the content will be aggregated from, and filter by List Type, and Content Type. You can direct relevant content to your users by using the SharePoint Audience Targeting feature.
Once you have configured your Query, you can build your view without writing any XSLT. Simply choose the columns that you wish to display, setup filters, apply formatting, setup pagination and you are ready to display your rolled up content.
Building your view allows you to display multiple columns easily. For example, instead of just displaying the title column from your SharePoint Task Lists, you can display Title, Due Date, Status and Priority.
With the Lightning Conductor Web Part, you can display your results by using the SPGridView easily or you can brand and build in your own features using XSLT, jQuery or Javascript. Within the Lightning Conductor Web Part, you will find pre-built views for displaying Calendar list items within a calendar, and a branded example of rolling up from Announcements lists.
When clicking a list item, you will never be taken away from the page containing the Lightning Conductor Web Part no matter where in the SharePoint farm your content resides. This allows users to use the data as though it belonged to the site that they are currently viewing.




Comparison of Lightning Conductor Web Part and CQWP
| Feature | Lightning Conductor | Content by Query Web Part |
| --- | --- | --- |
| Rollup content from multiple web applications | | |
| Rollup content from multiple site collections | | |
| Rollup from selected sites or lists from different site collections or web applications | | |
| Rollup from single site collection | | |
| Rollup from specific sites in the site collection | | |
| Build Views without writing code or XSLT | | |
| Add multiple columns without XSLT | | |
| Apply formatting without XSLT | | |
| Easily select columns to display by selecting check boxes | | |
| Apply Filters without code | | |
| Built in Calendar view | | |
| Built in Posts view | | |
| Build views with XSLT | | |
| Build views with JSON | | |
| Display Rollup Statistics | | |
| Export rolled up data to Excel or CSV | | |
| Supports Caching for performance | | |
| Content loads independently of page (Ajax) | | |
| Rollup from multiple list types with columns in common. | | |
| Audience Targeting support | | |
| Consume Web Part Connections | | |
| In context viewing/editing of content | | |
| Works with SharePoint Foundations | | |
| Requires Publishing Feature | | |
| Edit Control Block on Title column | | |