Our cross site collection and cross web application roll up web part gets conditional formatting. Watch the video below to see it in action.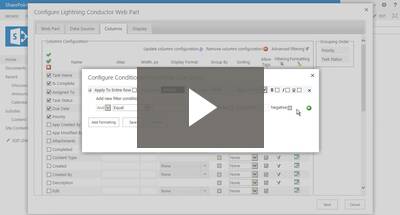 There are three view types within the Lightning Conductor Web Part; SPGridView, XSLT, and JSON. The SPGridView option allows you to display multiple columns from the SharePoint lists and libraries that you are rolling up from multiple site collections or multiple web applications. Typically, you wouldn't need to write any XSLT or JSON since the SPGridView was very powerful offering multiple columns, grouping, sorting and filtering. One of the most common requirements of XSLT was to provide branding or conditional formatting.
Image to show the SPGridView options of the Lightning Conductor 2013 web part
Version 5 of the Lightning Conductor 2010 web part and version 2 of the Lightning Conductor 2013 web part now offer conditional formatting and color formatting within the SPGridView. Simply choose your column, Set the formatting, and set your condition. There are unlimited levels of conditional formatting that you can provide using AND or OR statements.
Image to show setting conditional formatting on the Lightning Conductor 2013 web part
One of the reasons for applying conditional formatting is to highlight overdue tasks from task lists that you are aggregating. However, the conditional formatting can be applied to any SharePoint out of the box list or library, or even custom lists. The below example shows the same functionality applied to the Lightning Conductor 2010 web part.
To download a free 14 day trial, navigate to: https://lightningtools.com/content-aggregation/
<Brett/>