Do you need to apply conditional formatting to your SharePoint lists or external data sources? Do you miss the design view in SharePoint designer? Lightning Tools provides an app for Office 365 and a Farm Solution for SharePoint on-premises that addresses the requirement of conditional formatting on SharePoint lists and external data as well. Within a few minutes you can select your list or external data source, build a view by ticking the columns that you wish to see, add grouping, calculated columns, apply sorting and filters and of course formatting and conditional formatting.
Below is a screenshot from the Office 365 Data View Add-In being configured for conditional formatting.
You can download a free trial of the Data Viewer App for Office 365 from the Microsoft store: http://office.microsoft.com/en-us/store/data-viewer-WA104188795.aspx
You can watch a video of this product in use below: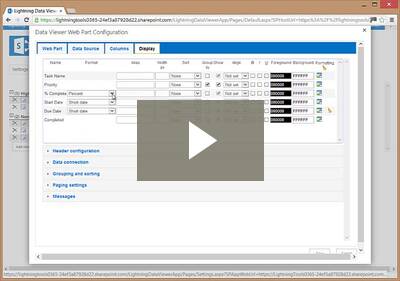 The farm solution enables you to connect to SharePoint lists, Microsoft SQL, Oracle, Business Connectivity Services, OData, XML, and more. No complicated configuration! You can be presenting data in SharePoint within minutes.
The Data Viewer Farm solution can be downloaded for a free trial from: https://lightningtools.com/products/data-viewer-web-part/
<Brett/>
---