Product Description
Additional Information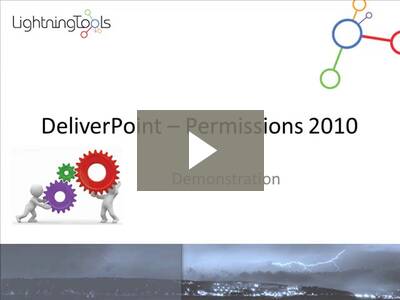 Video: Site Collection Owner Permission Management
Within this 10 minutes video, we explore how to produce accurate permission reports against a site, list, library, folder and document. See exactly who has permissions even if they were granted permissions via an Active Directory Group. Make Limited Access a thing of the past, and be able to Copy, Transfer, Delete permissions in bulk. We also demonstrate how to report on a single users permissions across an entire farm and see everywhere that the permissions were granted. Finally we look at Dead account reporting and how to remove dead accounts.

Discover Permissions Report
Using DeliverPoint Permissions Management, your Site Administrators and Site Collection Administrators can find out exactly who has permissions to the given site, and find out how they received the permission. With DeliverPoint even Active Directory groups show up in the Permission Reports so you can see all of the users and not just those that have been granted permissions directly or through SharePoint groups.
Permission Inheritance and Site Navigation
Using DeliverPoint you can Copy, Transfer and Delete permissions between users or groups for any selected Site, Site Collection, Web Application or Farm.
If a user leaves your organization, it can take a lot of effort and time to find where they had permissions, and then more time to go and remove them. Using DeliverPoint you could transfer the permissions to another user across the entire farm in a matter of seconds.
Compare SharePoint Permissions
Why can I access this site but not the other? This is quite a common question. With DeliverPoint Permissions Management you can select multiple sites using the tree-view, and then compare permissions across the selected sites.
Meanwhile, our tree-view shows you clearly which sites inherit permissions and which sites have broken permission inheritance.
DeliverPoint Fully Integrated
DeliverPoint is a fully integrated and in-context SharePoint permissions reporting and management tool designed for site administrators and site collection administrators. You don't need to navigate anywhere else or open another tool to get a permission report.

User centric reporting
As well as reporting who has permissions to SharePoint Team Sites, Lists, Libraries, Folders and List Items. DeliverPoint will tell you which of these objects a specific person has access to. Using the Unique Permissions Report, DeliverPoint will show you the groups the user is a member of which includes SharePoint groups as well as Active Directory groups. The unique permissions report will also show you all of the Site Permissions, List Permissions and List Item Permissions that the user has and how the permission was granted.
Dead Account Reporting
DeliverPoint Dead Account reporting will show you all of your users or groups that still have permissions within SharePoint even though they have since been removed from the Active Directory. You can report on these accounts and remove them in one click.